Graham MacKenzie
Pharmacist / Owner, Stone's Pharmasave
The Opioid Stewardship Spotlight is an ongoing series in support of the Pharmacist Opioid Stewardship Initiative (POSI), part of the Canadian Pharmacist Harmonized Scope 2020.
The Pharmacists Opioid Stewardship Initiative (POSI) project focuses on the scope enhancement and harmonization that enables pharmacists to be opioid stewards.
This multi-year initiative involves synthesizing evidence demonstrating the value of pharmacists' services in opioid stewardship to both patients and the health system across the four domains of scope of practice authority. The POSI vision: Pharmacists are fully enabled to meet patient and health system needs as opioid stewards universally across Canada.
Armed with this evidence, the profession will be in a better position to advocate governments for harmonized scope of practice for pharmacist services in opioid therapy management for their patients.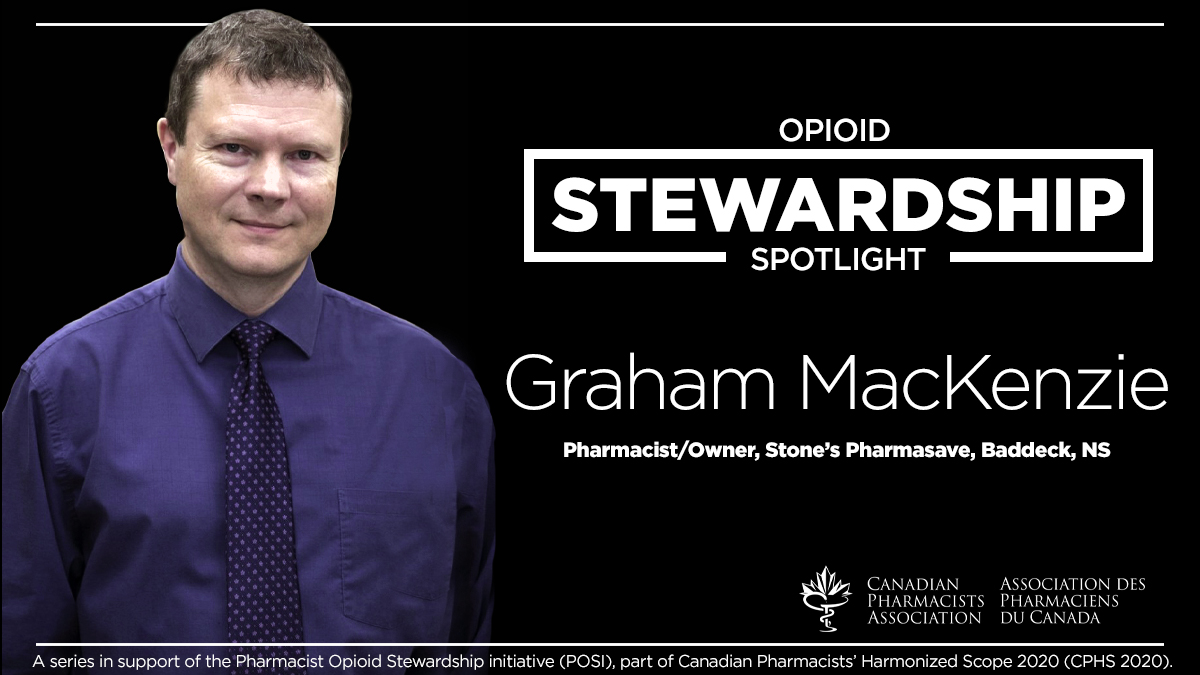 Graham talks about his work providing opioid agonist therapy in Baddeck, NS. The Opioid Stewardship Spotlight is an ongoing series in support of the Pharmacist Opioid Stewardship Initiative (POSI), part of the Canadian Pharmacist Harmonized Scope 2020.
You work with patients providing opioid agonist therapy (OAT). What does that entail in your particular pharmacy practice?
In taking on OAT at our pharmacy, a commitment was made among the staff to make this work for our current and future patients who needed it. It means a pharmacist will start an hour to an hour and a half early to set up a day's worth of dispensing in OAT. It involves information gathering from the patient, growing strong relationships with their physicians, educating ourselves on the science behind OAT, learning new therapies and embracing them. We were one of the first pharmacies in the area to inject Sublocade for our patients. Following up with our OAT patients can be a very rewarding experience.
What is the need in your community in Cape Breton?
OAT is commonly dispensed in many pharmacies in Cape Breton. The unique role we play is in the rural communities. There are a few pharmacies in Cape Breton that fill this role, and there is a recognition among us that opioid use disorder can happen to literally anyone, for many reasons, regardless of upbringing, income, geography or medical history. It is the role of the rural pharmacy to embrace these patients' needs and either prevent them from dying from an overdose or help with their therapy by giving them something at a convenient location that makes the (sometimes) daily commitment somewhat easier.
What role do pharmacists play in helping patients with opioid use disorder (OUD)?
The role we play is much more than coming in at 6:00 am and getting things ready for a day of individual dosing. We are educated by each of our patients in so many unexpected ways. The initial interview can be eye-opening, where a patient might tell the story of what led them to where they are that day. You get to know them more than any other patient. We become strong listeners and give advice when needed to that patient. We help in selection of the front store medications that won't interact with their therapy. We field questions about OAT side effects, warning signs, prescription issues, daily medication doses that are outside of the OAT, worried feelings, and celebrations of accomplishments and life moments that may have seemed insignificant to anyone else. It is quite a story to be involved in.
What does a "vision for pharmacists as opioid stewards" mean to you?
When I graduated in the early 90s from Dalhousie, the concept of addiction from opioids in properly treated chronic or acute pain would be relatively unheard of. This concept carried into my early years as a practicing pharmacist. The concept that we, as a medical community, could have been misinformed was the farthest thing from our minds. This recognition translated into a fierce commitment to undo what we had all been a part of for years; not only by screening every opioid prescription for appropriateness and risk more than usual, but to find evidence-based alternatives for pain, and to pursue routes to help undo the harm these medications had caused.
What needs to happen for the vision for pharmacists as opioid stewards to become a reality?
The stigma of opioid dependence must first be removed by health care staff. Pharmacists must be given the tools to understand dependence and how it develops. Having a good working relationship with prescribers regarding our concerns when we fill opioids is immeasurably helpful. Also, having interviewing and listening skills for drawing important information for understanding the patient going forward is important. Having a committed staff and management team that understands the long-term goal of OAT and how it makes for a better community is important for a foundation that makes a program like this successful.
What prompted you to provide these services?
It was actually the health centre at the First Nations community nearest to our pharmacy that started the conversation. The patients were being transported 50 minutes to the nearest urban centre that regularly dispensed OAT. At first, we didn't feel we had the support staff to commit to such a huge task. We had the desire to provide the service but needed the staffing and confidence to run the program. We gradually educated ourselves and researched our ability to run such a service and after a couple of years of discussions with the reserve health centre and band council we started the service for them and quickly took on those from the population in and around Baddeck.
What kind of an impact do you have on patients?
Many of the patients we see are those who were coming to the pharmacy as young people when I first started working after graduation. While we don't take the credit for the path that led them to this point, we take pride in helping them get there. These patients have a more mature and responsible life now. Making sure they feel completely at ease and without stigma helps to drive their visit tomorrow and the next day. Overall, we know that we are playing a part in their commitment that ultimately keeps them alive.
With the frequency you see OAT patients, you must develop a close relationship…
We have some of the closest relationships with our OAT patients. They typically tell us about what is going on with their lives, how they feel, what their concerns are about their therapy and their home life. They talk about their relationships, what they did last weekend, their family (some of whom are other patients you see), how difficult it is to come in daily for their therapy and how it would be easier if they were off of this. Some days a patient will talk about a new puppy they got, then the next, about their father passing away; another on a fishing trip with their kids, and the next talks about their new motorcycle they got for their son. Nothing is off the table and it builds trust.
Any advice to pharmacists who want to be able to work with patients providing OAT?
If you aren't providing this service but are considering it, you owe it to yourself to at least explore the possibility. Although there is no shame in realizing you can't start one of these programs and sustain it for the long term, you are able to select a fixed number of patients that you commit to helping. Starting out by focusing on opioid stewardship is a good first foot in the door. Realize that if you do decide to provide this service, whether you take on a relatively large number at first or even just 5, you will need a plan among your staff on every detail that will come up. What if the patient is out of fills? Are you prepared to follow your provincial regulations if they allow you to extend the prescription yourself? Will you use an automated electronic measuring device or prepare by hand? Reach out to a pharmacy that you have a good relationship with and grab a coffee with the pharmacy manager or staff member. It is a rewarding experience I would highly recommend.